The Festival through Time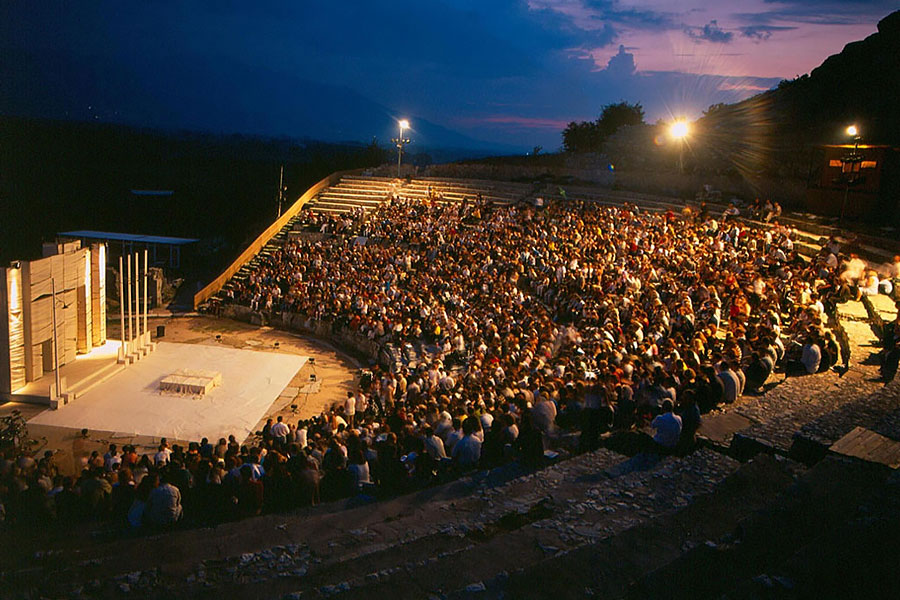 A major cultural institution, the second largest festival in the country after Epidaurus, the Philippi Festival held its first performance in the emblematic ancient theatre of Northern Greece in 1957.
In 1961, the newly founded National Theatre of Northern Greece gave its first performance in the Ancient Theatre of Philippi, and is inextricably linked with the Festival, charting a brilliant course. It would remain its organiser until 1983. From 1984 and for the next 25 years, the Municipality of Kavala and the Municipal Theatre of Kavala successively organised the festival. It features performances by the National Theatre, the National Theatre of Northern Greece, municipal regional theatres, as well as independent theatre productions.
In 2009, the Municipality of Kavala invited Thodoris Gonis to take over the artistic direction of the festival. Since then, the festival lasts for two months (July-August) and, in addition to guest performances, includes its own productions, mainly in the fields of theatre and music, as well as contemporary dance and performances. The festival now has its own character, its own rhythm, its own vision, it commissions, produces, creates.
The Ancient Theatre of Philippi is no longer the only place where the festival takes place, as it has been extended to other parts of the city of Kavala, such as the Fortress, the Imaret, the Palia Mousiki, the Gardens of Mehmet Ali, schools, temples, cafes, but also places around the archaeological site of Philippi, such as the Mud Baths of Krinides.
The mark of this new proposal, which aims to raise the festival to a European level, can be seen not only in the ruins of the ancient and Byzantine city of Philippi, but also in the city of Kavala, which in the past was a particularly prosperous city for the tobacco trade and shipping, with memories of a flourishing civilisation still scattered throughout.